It's the little esthetic touches that make a big difference;
this is what separates you from the rest.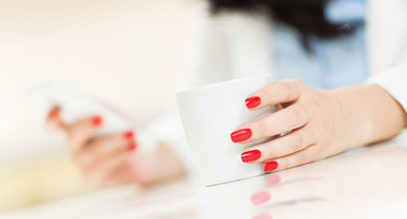 The spa services we offer not only make our clients look their best but more importantly improve the health of their hands, feet & skin.
Our Manicures, Pedicures, Waxing, Facials & Massages provide the soothing experience while effectively medicating with exfoliation & hydration. The fusion of our skilled experts combined with our authentic professional & retail products used has enabled us to maintain this high level of service.
Shellac Soak-Off & Polish Change
Shellac Nail Fix (per nail)
Gel Nail Repair (per nail)
Shellac Finish for Gel or Smoothing Gel
Princess Manicure (12yrs & Under)
French Finish for Manicure
Crushed Metallic Nail Art (2 Nails)
Crushed Metallic Nail Art (All Nails)
Princess Pedicure (12 yrs & Under)
Vixen Callus/Dry Skin Treatment
French Finish for Pedicure
Vixen Express Facial
The Express Oxygenating Dermalogica® Treatment for all skin types.  This quick maintenance is a perfect monthly regiment
Vixen Deep Cleansing Facial
The Dermalogica® treatment of Deep Cleansing that leads detoxification and cell vitality. The non-toxic, fragrance free and all natural ingredients will ensure immediate skin improvements, perfect for any season!
Vixen Anti-Age Facial
The Anti-Aging Dermalogica® Treatment to counteract wrinkles and loss of elasticity
Vixen Soothing Facial
The High-Tolerability Dermalogica® Treatment made to protect, revitalize and stabilize sensitive skin
Vixen Moisturizing Facial
The Hydrating & Moisturizing Dermalogica® Treatment. This facial smoothens and softens the skin through hydration, perfect for dehydrated skin types.
Vixen Purifying Facial
The Balancing & Purifying Dermalogica® Treatment. This facial is perfect for oily or acne-prone skin types
Special Occasion Application
Bridal Consultation/Trial
Bridal – Wedding Day Application
Vixen® Getaway 
Express Manicure
Express Pedicure
Vixen Express Facial
Vixen® Honeymoon 
Vixen Express Facial
1 HR Massage
Vixen® Vacation
Luxury Manicure
Luxury Pedicure
1 HR Facial
Vixen® Oasis 
Luxury Manicure
Luxury Pedicure
1 HR Facial
30 MIN Massage
*Add $14 for Shellac Polish.  Add $5 for Vinylux Polish
Cupcake Red Velvet, Red, Blend
(California)
Beringer, Red, Cabernet Sauvignon
(USA)
Naked Grape, White, Pinot Grigio
(Canada)
Robert Mondavi, Red, Merlot
(USA)
Jackson-Triggs, Red, Cabernet Sauvignon
(Canada)
Beringer, White, Pinot Grigio
(USA)
Jackson-Triggs, White, Chardonnay
(Canada)
J. Lohr, Red, Cabernet Sauvignon
(USA)
Sawmill Creek, Autumn Blush, Rose
(Canada)
J. Lohr, White, Chardonnay
(USA)
Jacobs Creek, Moscato
(Australia)
Jacobs Creek Moscato
(Australia)
Freixenet, Sparkling Wine
(Spain)
Ruffino, Sparkling Wine, Prosecco
(Italy)
Moet & Chandon, 750 ml (France)
Moet & Chandon, 375 ml (France)
Veuve Clicquot, 750 ml (France)
Veuve Clicquot, 375 ml (France)
Sparkling Orange Tangerine
Sparkling Pomegranate Cranberry
DAILY DEALS

RECENT POSTS

GET THE VIXEN APP

EARN VIXEN POINTS